Home / Pianos And The Brain
The Effects Of Playing The Piano On The Brain
Music is the most complicated sound the brain can process. But why did our brains evolve such advanced tools to create and enjoy it? Neuroscientists have been asking this time and time again. So to answer this question, there have been countless experiments to see just what happens in the human brain. It is beleived that music actually alters our brains, and engages higher level functions in the cortex that actually tune the brainstem.

So what does this mean? This means that playing the piano can help to:
-Alleviates Pain
-Manage Stress
-Express Emotion
-Enhances Memory
-Promotes Wellness
-Improve Communication
-Promote Physical Rehabilitation
View the chart below to see Your Brain On Piano!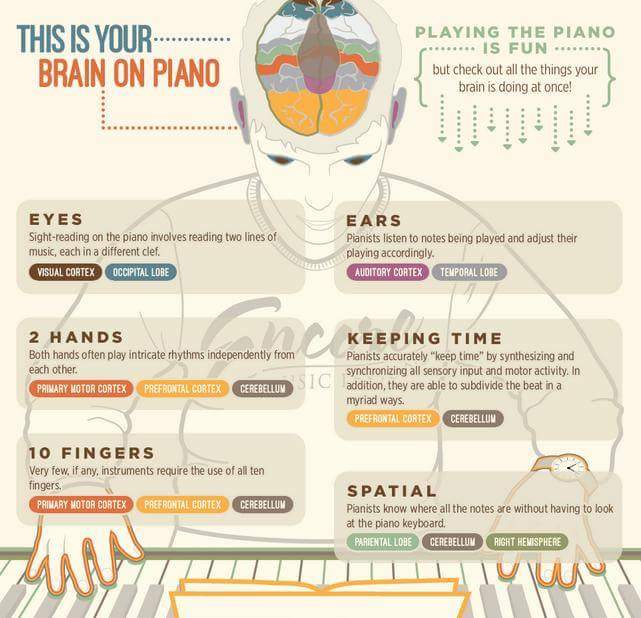 But wait... There's more!
It's been suggested that music lessons early in life can actually boost brain development. It is beleived that children who practiced music at a young age tended to have more white matter in a part of the brain called the corpus callosum. The corpus callosum is actually made up of nerve fibers, and is responsible for serving as a connector between the motor regions in the right side of the brain with those in the left side.

For the study, the scientists tested 36 well-trained musicians and divided them into two groups: those who began their musical training before the age of 7 and those who began after aged 7. The participants filled out a questionnaire developed by the researchers, which assessed the total years of training and musical practice, the total amount of years they took music lessons, and current number of hours that they played music. The scientists then tested the timing and synchronization abilities of the study participants by having them tap along to a series of visual cues.

The musicians who began playing an instrument before age 7 demonstrated more accurate timing in the experiment. Their brains also indicated more enhanced white matter in the corpus callosum.
If you would like to experience the soothing and amazing effects of the piano, call us today at 261-683-6700 for more information!
About Bobb's Pianos & Organs
Our services feature everything related to pianos and organs, including the sale of new and pre-owned pianos, digital pianos, organs, player pianos, piano rentals, piano consignments, piano lessons, repairs, tunings, restorations, moving and storage. Our conveniently located showroom is fully stocked with what many consider to be the best and most reliable selection of new and pre-owned pianos, digital pianos and organs available anywhere, not just in South Florida. Feel free to come in and browse, sample our pianos, talk to our professional consultants and receive a free no-obligation consumer education. Call us at 561 683 6700 or click here to email us for further information.
What Our Customers are Saying!
If you want to know what the best is in piano market, deal with Bobb's piano. The service is really prefect. They try to give you the best price as possible as they can!! I bought a Steinway L in the store and had a nice experience.

Very friendly 3rd generation family company. Huge selection of steinway, kawai, american baldwins, and yamaha pianos...